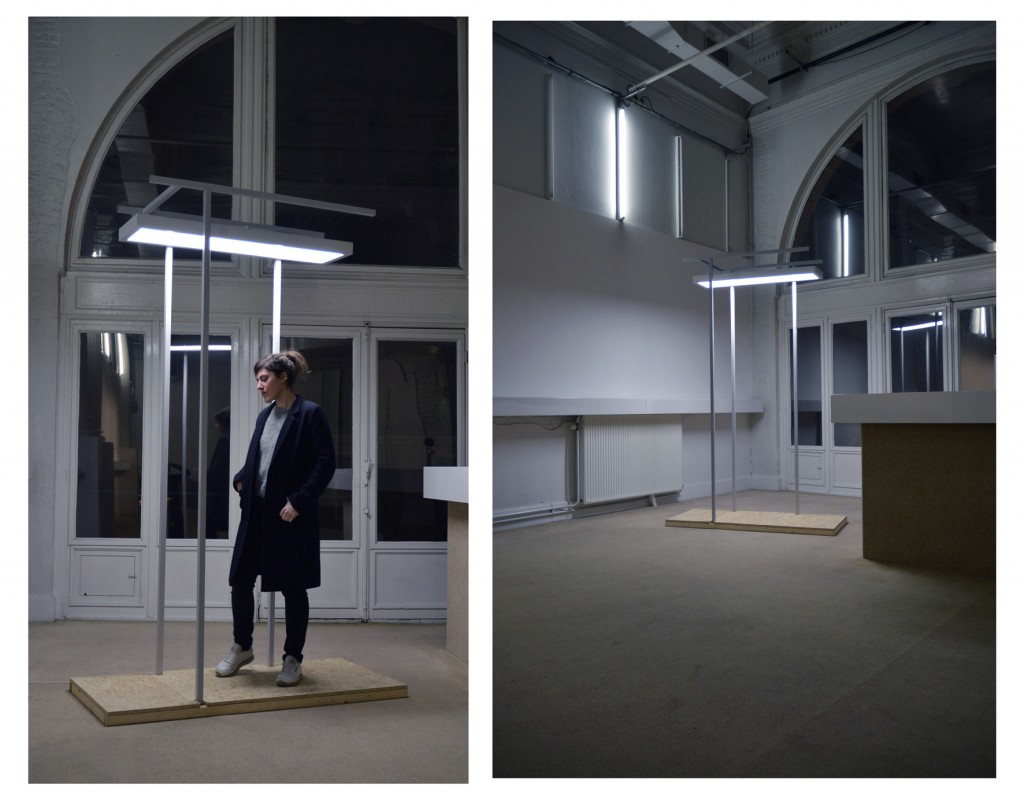 CLM.01 (City Light Module . 01)  (Photo: at BEURSSCHOUWBURG, Brussels)
Designed and realised for "Art And The Future City" Symposium, by VUB & RITCS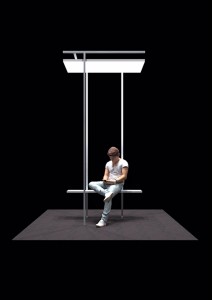 Visions of future cities are often dark and dystopic. Artists, writers…storytellers in general all seem to share a vision of the future city being a dark, hermetic place. Contemporary examples of megacities like Tokyo or New York show an architectural development towards the sky, cities become layer cakes consisting of a texture of infinite, constantly changing and interacting sub layers…all adding to our already dense inner-worlds. Cities would literally become heavier (weight and density) the lower you stand on the social ladder.Space, daylight and clean air would increasingly become very expensive luxury-products.
Challenges like getting daylight to the core of the city would become very serious. Daylight as a basic human necessity could be as real of a problem as clean water would.
Light distribution would become a large environmental issue, solar powered energy would have to be harvested in therefore preserved "Open Area's" which would implicate the destruction of nature. The need for light would, in the long term, only produce more darkness…density by itself can only increase. Generations of people would be born and raised without ever seeing real daylight…and of course this would also raise great challenges for agriculture and floral life in general. A phenomenon emerging from this situation would be the presence of solar-units within peoples residencies (grid-like lighting structures containing daylight-quality lamps) and public light-modules.
Contemplating this idea, I designed a slim and practical, yet highly aesthetic solar-light module. The "CLM.01" (City Light Module .01) would allow people on lower levels of the city (and society) to load- up on UV. The design takes on the form of a piece of public furniture that could be implemented into public space of all types and serve other needs also. The Module would provide people with a dose of artificial light that is composed in the same way as natural daylight. People would pay for the use of the modules through an automated system that reads the chips in peoples smart-technology (probably built-in to their bodies) and automatically credit their accounts, light would only be switched on after payment. CLM-units would thereby be a form of tax-income for the city.
The modules would be a common sight in public space, more so than for instance a tree.
Posted in
UNCATEGORIZED
Comments Off

on Symposium "ART & THE FUTURE CITY" At BEURSSCHOUWBURG, Brussels